What's Ahead for Mortgage Rates and Home Prices?
Now that the end of 2022 is within sight, you may be wondering what's going to happen in the housing market next year and what that may mean if you're thinking about buying a home. Here's a look at the latest expert insights on both mortgage rates and home prices so you can make your best move possible.
Mortgage Rates Will Continue To Respond to Inflation
There's no doubt mortgage rates have skyrocketed this year as the market responded to high inflation. The increases we've seen were fast and dramatic, and the average 30-year fixed mortgage rate even surpassed 7% at the end of last month. In fact, it's the first time they've risen this high in over 20 years (see graph below):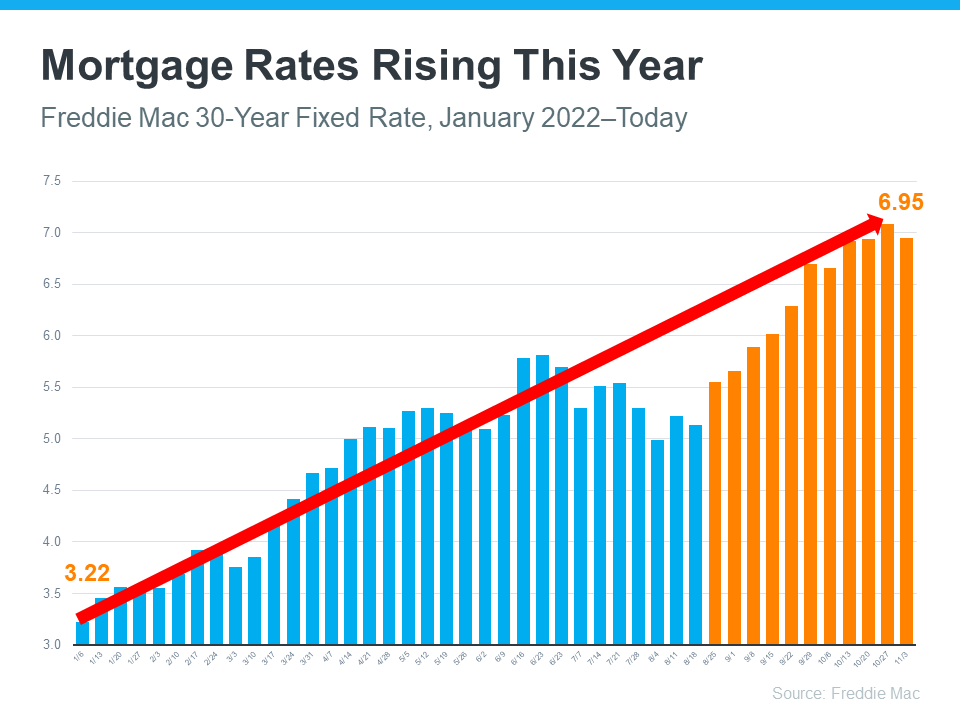 In their latest quarterly report, Freddie Mac explains just how fast the climb in rates has been:
"Just one year ago, rates were under 3%. This means that while mortgage rates are not as high as they were in the 80's, they have more than doubled in the past year. Mortgage rates have never doubled in a year before."
Because we're in unprecedented territory, it's hard to say with certainty where mortgage rates will go from here. Projecting the future of mortgage rates is far from an exact science, but experts do agree that, moving forward, mortgage rates will continue to respond to inflation. If inflation stays high, mortgage rates likely will too.
Home Price Changes Will Vary by Market
As buyer demand has eased this year in response to those higher mortgage rates, home prices have moderated in many markets too. In terms of the forecast for next year, expert projections are mixed. The general consensus is home price appreciation will vary by local market, with more significant changes happening in overheated areas. As Mark Fleming, Chief Economist at First American, says:
"House price appreciation has slowed in all 50 markets we track, but the deceleration is generally more dramatic in areas that experienced the strongest peak appreciation rates."
Basically, some areas may still see slight price growth while others may see slight price declines. It all depends on other factors at play in that local market, like the balance between supply and demand. This may be why experts are divided on their latest national forecasts (see graph below):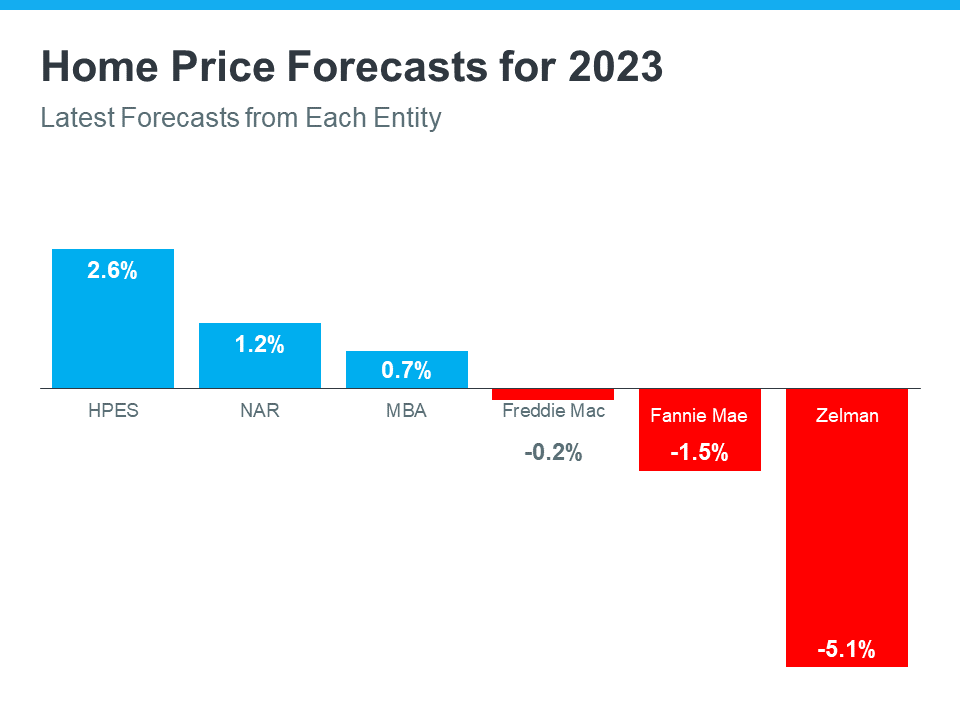 Housing affordability remains a challenge
The National Association of Home Builders estimates the median price of all new and existing homes sold in the United States rose to $355,000 in the summer of 2021 from $320,000 in the third quarter of 2020.
As a result of skyrocketing prices, it's getting harder for Americans to afford homes. Just 56.6 percent of homes sold during the third quarter were affordable to families earning a typical income. That was unchanged from the second quarter but down from 63.1 percent in the first quarter of this year and 66 percent in the first quarter of 2020, according to the National Association of Home Builders/Wells Fargo Housing Opportunity Index.
Mortgage Rates and Home Prices in Kalamazoo
Rising mortgage rates squeezing some Michigan housing markets
Contrary to what others might see, Michigan real estate had not displayed as strong a rise as other areas of the country in recent years. Nevertheless, a new study finds Michigan real estate markets are not seeing as much of in recent months as the rest of the U.S. might be.
ATTOM is a company that tracks the real estate industry. The company's U.S. Home Sales Report released Thursday shows that returns on median-priced single-family and condo's house sales in the third quarter reached around 17%, a drop from one year prior. This is the first decline in nearly three years.
Some Michigan real estate markets are also feeling the effects of rising mortgage rates.
Overall, listing prices are going down but good houses are still selling for over asking price. While we're seeing a small decline in this quarter home prices are still expected to go up next year when interest rates go down. 
What this means is that you shouldn't lose money purchasing a house right now and anybody who did purchase a couple months ago will rebound from the small drop that we're seeing in the market right now. 
If you want to know what's happening with home prices or mortgage rates, let's connect so you have the latest on what experts are saying and what that means for our area.