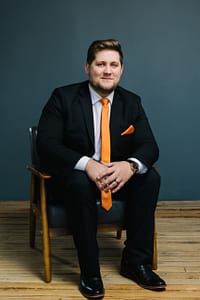 REALTOR® | Associate Broker | #6501384937
Zac started his real estate career in 2014 when he was invited in by a fellow REALTOR®. He had been looking to purchase an investment property in Kalamazoo area when the agent he was working with told him "you'd make a great real estate agent".
Luckily, she was very right.
After this start, Zac did a couple of transactions as a single agent before moving onto working on a small team at a local RE/MAX. He then started helping more people purchase houses and met a few people who became lifetime friends. 
In 2016 he moved over to a different team at Keller Williams where he learned a majority of the business incentives that he's implemented in his business today. During this time he worked a lot with buyers, primarily from people who needed help finding the right house and helped with the trajectory of his role as an agent in peoples lives.
2017 started with a huge push to help grow a small boutique brokerage with his previous team leader. Zac took on the role of helping agents understand how to help clients buy and sell properties effectively, Part of this responsibility was creating a good work environment for the agents and creating the ultimate level of satisfaction. 
During this time he oversaw around 500 total transactions in the Kalamazoo, Grand Rapids, and Battle Creek area. 
In 2019, after the end of a good business relationship Zac decided to go into business for himself and he joined eXp Realty. He begun this path by helping several investors make good buying and selling decisions when it came to flipping houses. It was about this time that he began work on making a vision to help even more home buyers and sellers become wealthy by using real estate. 
Part of the reason that he joined eXp was because of the incredible agent culture, ability to purchase company stock, and most importantly the ability to help our clients find an agent wherever they're looking to purchase. 
After about 1 year here, Zac decided that the best route for helping more buyers understand the best way to purchase new homes was to combine the knowledge of hundreds of transactions into a book. That was how he created Digital Age Homebuying, and began the journey to create a knowledge base for first time home sellers.
When Covid-19 bumped the real estate market up, Zac decided that the best way to help even more people with their real estate needs was to begin the Zac Folsom Group where he could create a full service real estate group to help with all real estate needs. 
Interested in attending events, mingling with other members, and most importantly getting access to the best real estate information? Just put your email in below and we'll put you on the list immediately.