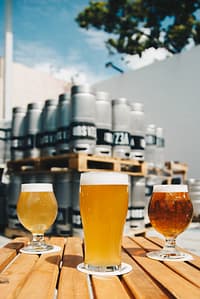 Our Favorite MicroBrew Locations
Being born at Bronson Hospital in downtown Kalamazoo, MI I've grown up in an ever growing city. I've seen places come and go but overall there's a fantastic amount of small breweries. Whether you're looking for a crisp IPA, tasty stout, or willing to venture into unique sours Kalamazoo, MI has a microbrewery that's going to be perfect for you!
Kalamazoo has around 11 unique microbreweries (this number changes frequently) and this is a list of my favorite Kalamazoo, MI Micro Breweries as a local resident and someone who really loves stouts and porters. While I tend to stick to these beers – I drink just about anything so here's the places I would go to, to explore the best beers in Kalamazoo!
Variety of Beers | Great Food | Board Games | Arcade Games
Favorite Beer: Only Gose to Show (Kettle Sour)
Super Fun Fan Favorites: Xalapa (Jalapeno Blonde *Spicy*)
In the heart of Milwood in Kalamazoo, MI – One Well brewing is a fun place to try out new beers, enjoy a board game, and some unique food. Overall, there's a beer here for everyone which is why it's going to the be the best place to go to on our list. 
The "Only Gose to Show" is my favorite because it's incredibly refreshing for a beer and has a very good flavor profile to it. While some sours make you pucker, this one to me is a light porch sipping drink that could be drank all day. There's also a tequilla barrel version that's a bit stronger on the ABV but overall is just a quality beer. 
One of their beers (Xalapa listed above) is incredibly spicy and is perfect for someone looking for a unique craft beer to try. Although it's not very refreshing the beer itself is one of a kind and has a strangely wheaty undertone – when you get past all the spice. 
One Well Brewing also has a ton of great food, some of my favorites on their rotating menu are the nachos, chicken wings, and burritos. A lot of people love the personal pizzas there as well and I've never been with someone who doesn't find something that they enjoyed!
If you only have 1 night in Kalamazoo this may be the best place to try out.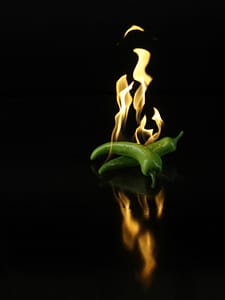 Variety of Beers | Food Trucks | Shared Food Area
Favorite Beers: Blanc Slate (Sauv Blanc IPA), Glampfire Stout (Smoked Stout), Mimosa Sour (Muscat Sour)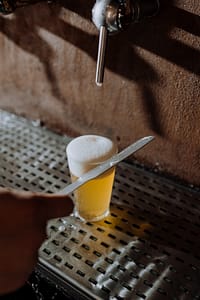 While this is a newer brewery the owner (Ted) has been brewing beer for a long time. He's an engineer turned brewer and the best part about this Micro Brewery, in my opinion, is that the beers are consistent.
If you're a fan of IPA's I have yet to meet someone that doesn't enjoy some of the Blanc Slate IPA including myself. It's got a very refreshing flavor, despite having high IBUs. Additionally it's at a whopping 7.7% ABV!
I also genuinely love the Glampfire Stout which is sweet, smoky, and delicious. It's a very balanced stout and lets a lot of different flavors come through while not allowing one bold flavor to be overpowering. 
If you're looking for more of a sipper the Mimosa Sour lives up to its name and tastes like a beer mimosa. Even my wife who normally doesn't love beer enjoys drinking this, which is great for someone who doesn't necessarily love beer. 
While Brewery Outre doesn't have any food inside yet they regularly have food truck events and have a cafe next door that serves food. I love the ambiance inside the brewery and the mixture of hard, modern surfaces mixed with the comfort of their sitting area makes you feel more at home than out in a bar. 
This is a perfect place to go if you're looking to try some well crafted beers while you're near downtown Kalamazoo!
Sour Beer Champs | Very Affordable | Near Great Food
Favorite Beer: Condor Valley (Fruited Sour)
While it's a little off the beaten path, it's definitely worth the trip to try some of their beer. What I love about wax wings is that they have a very different flavor profile than most of the other beers in Kalamazoo. They offer some very unique sours and occasionally have food (Covid has been tough for their business). 
The Condor Valley Beer has come in different flavors as well which is a really fun way to put a twist on one product. I know in 2021 I was able to get a cherry, blackberry, and orange flavored sour that were all offshoots of the original Condor Valley. 
Overall it's a great place to visit and there's plenty of food on gull road, including the restaraunt in the same strip, Mi Pueblo. 
Variety of Beers | Great Food | Cocktails | Outdoor Dining
Favorite Beers: Michigan Honey Amber (American Amber), Beach Cruiser (Hefeweizen), Saskatoon Berry Cider (Apfelwein)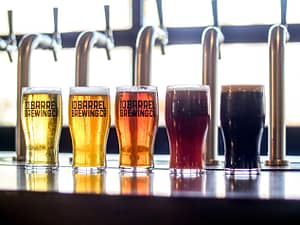 Latitude 42 is a cool atmosphere and conveniently located off the highway in Kalamazoo. The Oshtemo location is actually the second location and they do also have their first location in Portage (in case that one is closer to where you are at). 
Latitude is a great place for someone who is looking for more high-end bar food, different drinks, and a fun ambiance. There's lots of diferent beers, ciders, and even liquors that Latitude produces that are all incredible. 
If you're going getting a flight is probably the best way to find exactly what you like there since there are so many options. 
The Michigan Honey Amber is my favorite because there's very few breweries around Kalamazoo that are producing great tasting red ales. It has a really refreshing flavor but also the right amount of hops that come through, all while being made with locally sourced wildflower honey amber. 
If I'm in a mood where I want a crisp drink the Beach Cruiser is a perfect sipping drink. Of course, if you're more of a cider person I loved the Saskatoon Berry Cider because it had the right amount of tartness to sweetness and it's just a fun berry name. 
This location also has a really cool outside patio area, they serve tons of elevated bar foods such as truffle fries, burgers, and pizzas. They do try out new beers from time to time and it's always a great place to go to if you want to have a higher end experience. 
Local BBQ | Affordable | Close to Downtown
Favorite Beer: Dagwood's Wife (Blonde Ale)
Other MicroBreweries in Kalamazoo
While these are my personal favorites there's plenty of other places to go to get some great beer in Kalamazoo. Here's a list of some of the places that you can check out besides the ones listed above – and if you want to have your favorites reviewed share this with some friends on social!
Also due to the high traffic Bells Brewery has and the fact that they serve beers all across the USA I've opted to not promote them in this post that's more unique to people traveling to Kalamazoo.